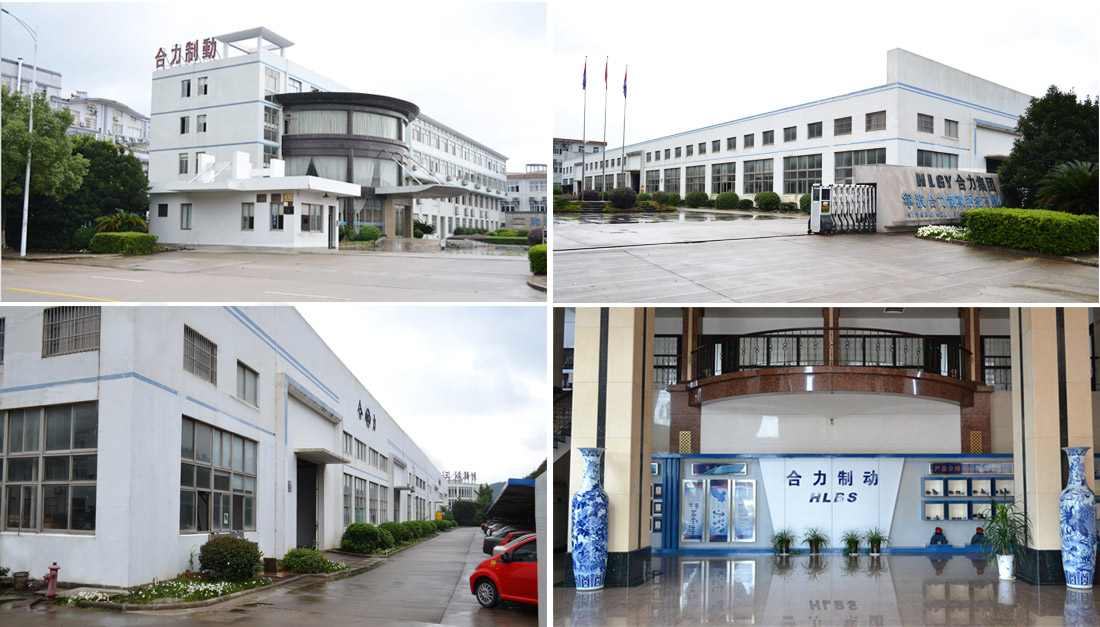 Ningbo Heli Brake Systems Co., Ltd.(HLBS), formerly known as "Ningbo Heli Auto Parts Co., Ltd.", which is the national high-tech enterprise, member of Expert Committee of Ministry of Construction, air disc brake industrial standard setting unit organized by Ministry of Communications and Ministry of Construction, located in Xiangshan Industrial Park Ningbo City, Zhejiang Province, a wholly owned subsidiary of Ningbo Heli Group. We specialize in designing, developing, manufacturing, marketing and service for brake systems and industrial parts, our products are comprehensively used for all kinds of coaches, tourist bus, trucks, special vehicle, etc.
HLBS is committed to provide customers complete varieties of brake systems, the main products include: air disc brake, automatic slack adjusters, brake chamber, steering locking cylinder, etc. All these products are mainly supplied to the well-known commercial vehicle makers and axle & chassis plants, and indirectly exported to Europe, North and South America, Middle East, Southeast Asia and other regions. We have become long-term qualified supplier of Yutong, King-long, Golden Dragon, Higer, Zhongtong, Foton, Ankai, Asiastar, Beiben, Youngman, Sunwin, Sunlong, Daewoo, North Neoplan, Dahan Neoplan, CHTC Bonluck, Naveco, JMC, DDAC, Fangsheng Axle, Molead, Hande Axle, CJ Axle, and etc.
As a professional manufacturer in brake systems, our annual production capacity of air disc brake reaches 80,000 sets, and we currently develop 7 series, over 40 types, include 16 inches (single pushrod), 17.5 inches (single push rod), 19.5 inches (single&double push rod), 20 inches (double push rod), 22.5 inches (double push rod), 24.5 inches (double push rod) and 25 inches (double push rod), which can be satisfied to all commercial vehicles, as the qualified supplier of many well-known bus and heavy truck maker, such as Yutong, king-long, Youngman, Beiben and etc., and also widely applied to the public bus market, such as Shanghai Bus, Guangzhou Bus, Shenzhen Bus, Hangzhou Bus, Nanjing Bus, and etc.; The automatic slack adjuster is qualified supplied to Yutong, king-long, Beiben, JMC, Naveco, and etc. , the current annual production capacity reaches 200,000 sets. We focus on product technology development, has already obtained over 20 patents of invention and utility model.
In order to improve vehicle braking performance and safety, we continuously dedicate to the innovation and development of brake systems, we can produce not only single parts but also provide module assembly, combined with brake caliper, brake disc, steering knuckle, hub and bearing to a module, to meet the customers' requests.
HLBS has passed ISO/TS16949 quality system certification in 2005, and continue to improve and enhance the quality of the production and quality management system, in order to ensure the quality and performance of the products, we have all kinds of test and inspection equipments, such as Dynamic Testing Machine, Fatigue Tester, Universal Tester, Temperature Shock Tester, Dust Tester, Salt Spray Tester, Coordinate Measuring Machine, German OBLF Direct-reading Spectrometer, and etc.. We adopt the advanced ERP system to integrate enterprise resource configuration, using the design softwares like UG, Pro/E, SolidWorks and etc., and the simulation softwares like MAGMA, ADAMS, FATIGUE to provide the strong technical support for designing internationally competitive products; We pay much attention to the personnel training and technological innovation, we signed the personnel training agreements with some famous universities such as Tsinghua University and Zhejiang University. All these above ensure us to improve enterprise management and development ability, to create a learning-oriented enterprise, to enhance the international competitiveness for providing intellectual support.
Environmental protection is the responsibility of the enterprise, we laid on the roof of office building and workshop with photovoltaic modules, it is not only can reduce the production cost, also help to relieve local power supply pressure, create energy-conserving and environment-protective benefit and become a real green enterprise.
Our principle is to create excellent products, to provide customers with the best service, to foreseeingly meet customers' demand. We always insist on honesty and credibility, focus on the customers' demand, serve them with stable quality, reasonable price and perfect service system, and strive to become the word-famous commercial vehicle brake systems manufacture base.
Scan QR code and follow it